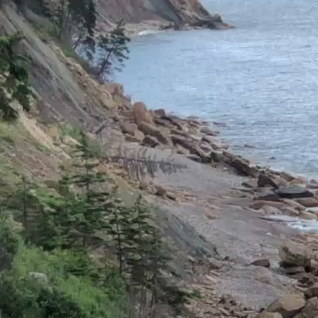 100-Acre lot on the Cabot Trail: 670-feet of oceanfront
Price: $475,000
PID: 85039279 Assessment #: 03080277
Size: 100 acres Waterfront?: Yes, over 670 feet of shoreline
Taxes (2022): $$1,031
See it on RemaxNova
43702 Cabot Trail, Nova Scotia
Over 670-feet of private oceanfront, and 100 acres of wooded ocean views make this Cabot Trail gem the investment of a lifetime.
A rare 100 acres on the Cabot Trail with spectacular ocean frontage.
Properties like this don't come up for sale often. This 100-acre lot has the Cabot Trail Road running through it. To the left of the road, about 72 acres rising at a steady incline. The mature forest extends up the mountainside offering breathtaking ocean views at every turn of the trail. The lot backs against a nature preserve that includes a nearby lake.
On the right side of the road, a roughly 28-acre parcel leads to the coast. Along the way you'll cross a shallow brook and then the land climbs gently as you head to the shore.
At the water's edge a bank protects the land from erosion and storm waves. The bank dips to about 10 feet in height and rises to about 60. The beach is easily accessible by walking down the incline.
A modest home built in 1940 is on the property – definitely "as is" and in need of repair. Power lines exist on the road.